The American Embassy - Grosvenor Square
23 September 2001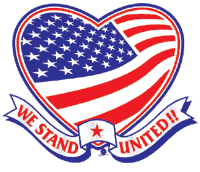 On the 11 September 2001, the Twin Towers of the World Trade Centre in New York were destroyed by terrorists and nearly 6,000 people died. We went to the embassy so that we could sign the book of condolence.
As you would expect security was very high, all metal items had to be put into plastic bags, we had to pass through an airport type metal detector, there must have been 25 Police men in the square.
Lots of people had signed the books, lit candles and left flowers.