Welcome to Scarborough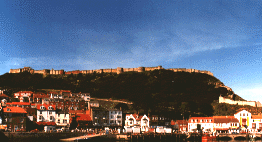 Scarborough was founded well over a thousand years ago as Skarthaborg by the Norman Skartha, the Viking settlement in North Yorkshire in the north east of England became a very important port as the dark ages drew to a close.
Internationally it is probably best known for the medieval Ballard Scarborough Fair.
Scarborough Fair was not a fair as we know it today (although it attracted jesters and jugglers) but a huge forty-five day trading event, starting on the fifteenth August, which was exceptionally long for a fair in those days. People from all over England, and even some from the continent, came to Scarborough to do their business. As eventually the harbour started to decline, so did the fair, and Scarborough is a quiet, small town now.

Scarborough is roughly 60 miles from our house. The Yorkshire coast is not known for its Mediterranean climate. If you want to be kind you could say that its 'Bracing'. I'm sure that the cold wind comes direct from the North Pole.....